with the designated builder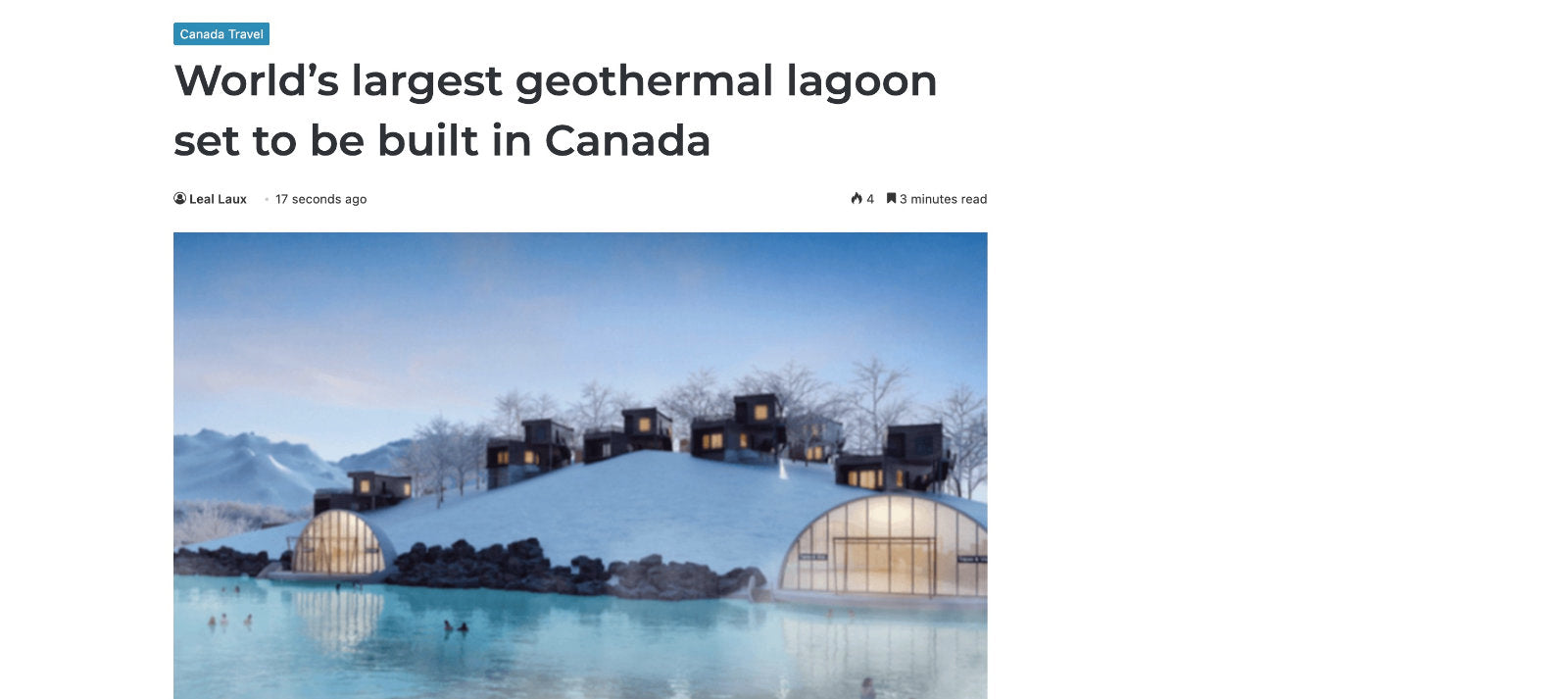 [EN] World's largest geothermal lagoon set to be built in Canada
Lire l'article complet sur Infotourism.news 
A Canadian company is planning to build the world's largest geothermal lagoon a few miles outside Quebec City. The geothermal lagoon will aim for carbon neutrality by drawing power from the Sun and Earth. The Quebec-based company Geolagoon has drawn inspiration from Iceland's Blue Lagoon, one of National Geographic's 25 Wonders of the World, and will use a patented technology to create a state-of-the-art lagoon that consists of water bodies with an insulated, waterproof sub. There will be a combination of baths. -Tank that stays too hot.

To be built in Charlevoix, Quebec, the waters of the lagoon would have covered approximately 12,000 square meters (130,000 sq ft). Water from the open-air lagoon would circulate through coils in the heated sub-tank at the flow rate required to keep it at 38 °C.
There is a strong possibility that the Geolagen project will produce more energy than it consumes. Opportunity to provide surplus electricity to the surrounding community.
Louis Massicotte, CEO and Founder of Geolagoon
"As an entrepreneur, I have chosen to strive to be an agent of change by building completely self-sustaining villages using solar, geothermal, biomass and our patent-pending thermal reservoir that lies beneath the lagoon. will be installed and store hot water at 70 degrees C," said Louis Massicotte, Geolagoon's CEO and founder. "Quebec is in a privileged position to demonstrate to the world that self-sufficiency in renewable energy is a real commercial option, especially in the tourism industry.

The cottages will be heated by the lagoon with hot air, which in turn will be heated by geothermal, solar and biomass energy with hydroelectricity as a backup. Rainwater will be collected and filtered for the water supply, and the technology used will significantly limit lagoon evaporation. The project aspires to be an international renewable energy model for carbon neutrality and self-sufficiency.

Each of the 4 resort villages and geolagoons in Quebec will be built on land already set aside for tourist attractions and accommodation. Massicotte told Canadian media that construction is expected to begin in Charlevoix in March, and will take about 18 months.

The designers believe that the Geologoon projects will provide host communities with an opportunity to support and promote the use of renewable energy in the attraction industry, an energy-intensive sector where there is an urgent need to move forward in a viable model of a greener, cleaner way. the wanted.

The project is planned in three phases, starting with the construction of 150 solar-powered cottages, followed by a lagoon as the second phase, and then the remaining 150 chalets. Massicot is planning three more GeoLagon projects for Quebec in Laurentides, Lanaudier and Eastern Townships.

In early September, Geolagoon Villages won the Sustainable Development Initiative of the Year thanks to the self-sustaining renewable energy village model. Along with several large multinationals and governments, the company has risen to the ranks of the world's best companies in terms of sustainable growth, according to the jury for the Sustainability Awards, distributed in Philadelphia by the Business Intelligence Group.

Compared to traditional development, each geolagoon village plans to reduce ground water consumption by 90 to 95% thanks to a method of collecting and filtering rainwater. Therefore the Geolagon villages would only be supplied by artesian wells for drinking water, which is 5 to 10% of the traditional volume.

A wide range of experts support Geolagoon Inc. in its research and development projects. A study by Econovia engineers confirmed that the Geolagon project would be 100% self-sufficient in self-generated energy. INRS also analyzed the geothermal potential of the soil and gave its recommendations.

With regard to production calculations for photovoltaic and thermal solar power, solar expert Dan Oppizzi supported the company. In addition, an engineer's report suggested the water self-sufficiency of the Geolagoon project for rainwater supply by computing losses from evaporation and use of toilets (black water) and integrating the reuse of filtered water for showers. performed. Sink and other uses (grey water). In addition, to save water, 300 chalets in each village will be specially equipped with showers (without bath) with voluntarily controlled flow.