with the designated builder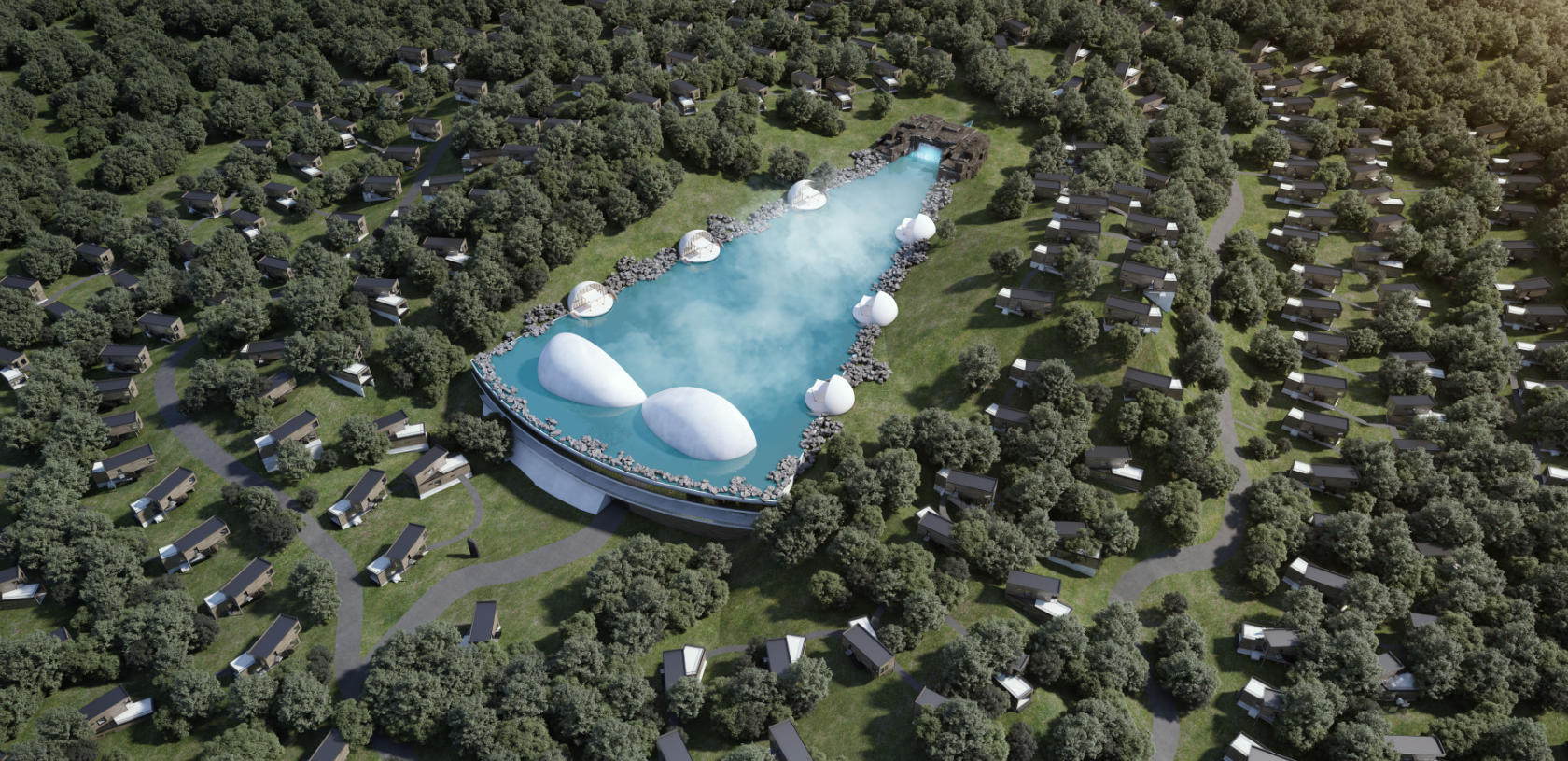 geoLAGOON Villages signs finance terms with a UK based project finance specialist
News Release for international markets


geoLAGOON Villages signs finance terms with a UK based project finance specialist
(Quebec City, Canada, 25 April 2023) – geoLAGOON has developed a patent-pending technology integrating solar, geothermal and biomass power production combined with a unique large heat storage tank in the middle of each village under a lagoon heated year-round to 38C with heat loss, all resulting into circular and infinite mode net zero, water & circular energy self-sufficient villages.
In September 2022 an extensive study confirmed that each eco-village will be renewable energy self-sufficient and shall also generate power surpluses. Each village will be carbon neutral.
HOMES OF THE FUTURE THAT PRODUCE ELECTRICITY
One of the keys to the production of electrical energy in the geoLAGOON concept is that the exterior walls of each home in the village will be covered with high performance building envelope that integrates photovoltaic solar panels (BIPV) without a compromise on the design that will provide the necessary electricity to heat the tank and its lagoon. And conversely, in an infinite model, the tank will heat and cool the homes. After reviewing all the producers of BIPV and solar manufacturers in the international markets, geoLAGOON and the solar expert Dan Oppizzi chose to enter into a collaborative agreement with MITREX, which operates a unique state of the art automated factory near Toronto, Canada. Mitrex is the world's largest manufacturer of sustainable facades. In addition to its Canadian plant, Mitrex has announced plans for a new 400,000 square foot manufacturing facility in the United States to produce solar products with a production capacity of 2.5 GW.
A separate study confirmed that the solar houses in each eco-village could also save more than 80% of the water drawn from the ground compared to traditional houses, a benefit of the adopted water management strategy, inclusive of rainwater harvesting, recycling, filtering and infinite heating cycle.
The expectation is that the concept of the geoLAGOON eco-villages, self-sufficient in both water and renewable energy, shall help address global water and energy issues with the potential to provide many of the world regions with access to clean, low-cost energy, as well as adding a network of net zero tourism infrastructure.
Over 1,200 chalets, built in factories, exceptionally energy efficient and consuming less than 11,000 kWh/year, are to be sold to buyers for occupancy or renting.
The year-round 38°C lagoon-pool will be operated separately as a tourist attraction using a leading Icelandic business model, with no discharge to the environment.
As announced on 7 February 2023, it is already planned that a European expert will finance, build and operate (in conjunction with an energy service company) the heat production and distribution facilities of the geoLAGOON tourist villages, based on the use of renewable energy (solar thermal, geothermal and biomass) and a heat accumulator to maintain the temperature of the water in its lagoons at 38°C for twelve months of the year, with a guaranteed result.
The new finance terms agreed by geoLAGOON with the UK based project finance group provides for the financing of up to $175 to $250 million per village, according to size, for the construction and development of each of four eco-villages to be located in the Laurentians, Charlevoix, Eastern Townships and Lanaudiere regions of Quebec.
A major milestone for geoLAGOON, this agreement shall accelerate the delivery of the world's first self-sufficient water and circular energy village, integrating an infinite exchange of energy between solar, geothermal, biomass and heat accumulator, with a vast lagoon-pool.
"As an entrepreneur, I made the decision to try to influence the business community at home and abroad by demonstrating that energy self-sufficiency and carbon neutrality are real options for the future. Our investment in grant-free research and development in geoLAGOON was bold, but it has finally paid off. In my opinion, this important finance stage today is a giant step in favour of the energy transition, as it is a great first that opens the door to other developers around the world wishing to explore such an avenue."
- Louis Massicotte, CEO and creator of GeoLAGOON Villages
Last fall, geoLAGOON gained international visibility with nearly 300 articles published in some 30 languages, including an article published by the American Society of Civil Engineers (ASCE). (https://www.asce.org/publications-and-news/civil-engineering-source/civil-engineering-magazine/article/2022/10/energy-self-sufficient-lagoons-and-villages-set-to-be-built-in-canada)
A national survey conducted by Leger Marketing revealed that in 2022, 56% of Quebec adults would be very interested to own or rent a cottage or condo by a geoLAGOON to experience open-air swimming.
The next phases for geoLAGOON villages are:
- Complete permit filings in accordance with local regulations in each Quebec markets.
- Satisfy UK funder customary conditions for projects of this nature, its due diligence and final modeling.
- Begin construction, award infrastructure contracts and start the hiring process of 100 employees per village.
- Create a pan-Canadian network of geoLAGOON villages and expand into international markets.
ABOUT geoLAGOON VILLAGES
geoLAGOON inc. is planning the creation of four vacation villages in Quebec, all of which are located near ski and cycling centres in the Charlevoix, Laurentians, Lanaudiere and Eastern Townships regions. Each village will incorporate a large 120,000 sq. ft. swimming lagoon that will be owned and operated by a third-party corporation of founder Louis Massicotte, which will operate the ticketing. This lagoon will be heated year-round to 38°C thanks to a unique, carbon-neutral energy ecosystem that harnesses the infinite power of the sun and the earth's energy. Each site will offer rental chalets that investors can purchase and rent on the platforms of their choice or through a hotel service. The exterior cladding of these chalets, built by a designated developer, will be made of photovoltaic cells that will generate energy.
The geoLAGON villages were named the International Initiative of the Year at the Sustainability Awards in Philadelphia, USA, in September 2022, alongside such high-profile global brands as AT&T, HP Inc, Lexmark, SWIX, United Arab Emirates, Ministry of Energy & Infrastructure, AstraZeneca, General Motors, Honeywell, PepsiCo, Dow, Qatar, Public Works Authority Roads Projects Department, Resolute Forest Products, LG Electronics, Eastman Kodak Company, Samsung SmartThings Energy and U-Haul International.
The geoLAGOON will be a major net zero aquatic attraction, but it will also demonstrate the value of geothermal, solar and biomass renewables, enhanced by the addition of a heat storage facility.